Apple MacBook Pro Keyboard Keys Replacement Late 2016
Laptop Key Replacement Kit
(Includes key Cap, Hinge Clip, and Cup. All The Parts Needed To Repair Your Keyboard Key.)
Apple MacBook Pro Keyboard Keys Replacement Late 2016
These 2016 MacBook Pro keyboard key replacements features the new designed keyboard, these keyboard key replacements has the second generation of the "butterfly" hinge clip, meaning you will get a smooth and precise key stroke, these laptop keys are 100% Apple OEM so you are sure to get perfect fit and finish.
Please take a look at the difference between the Butterfly 1st Gen vs 2nd Gen, there are major changes, and the fitment is different, we are selling 100% OEM 2nd Gen butterfly keyboard keys with the rubber cup included, while others are selling you the 1st Gen.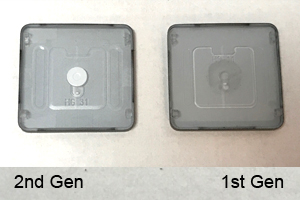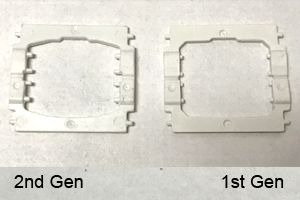 We offer the SPACE BAR 2 ways, SPACE BAR w/CLIP and w/o CLIP, if just the clips on the BACK of the space bar is damaged, save some money by only purchasing the version WITH OUT CLIP, otherwise please purchase the version W/CLIP.



100% Factory Original
Brand NEW
1 Year Warranty
60 Day Free Exchange Policy
Hassle Free Return
100% Satisfaction Guarantee
We are a proud American company since 2005. All of our products are packaged and shipped from Orange County, Ca.
Confirm Keyboard Layout and Language
Below is an actual picture of the keyboard. Please confirm that the layout matches as well as the language.

NOTE:The default color of the keyboard we show is black. If your model comes in different colors and we have it in stock, it will be available in the color section above.
INTERNATIONAL CUSTOMERS: Our standard keyboard layout is QWERTY (shown below). If you have a different language layout the key cap and hinge clips are still interchangeable. If the key cap shape does not match or you require a different language layout please contact us before ordering.


Write a Review
The fastest ever! It's perfect

Perfect match, really fast delivery!!!

Looks and fits just like the original, very pleased !

Matches better than I expected

Wasn't easy to install because of the fiddly clips on the MacBook Pro 2016, but once on it has worked perfectly.

It works fine - delivered to the Czech Republic without issues and the key itself is like the original one, so I`m pretty glad that I was able to order just one key - V in my case and didn`t have to replace my whole keyboard for macbook pro late 2016. The only drawback is there is no manual on how to insert it properly and also no updated video for theese macbooks. Anyway... recommend it hands down :))

Smooth ride, no problems. Got my keycaps.

Great but one part was missing.

The overall quality of the key, hinge and cup is very good. Unfortunately, one part was missing. The customer service did not respond to my second email after telling me to send a picture. I was able to repair my key without the missing part, but I will not order again because I did not receive what I paid for.

The quality of the product is the best!!

Hello, all parts looks good, but key doesn't responds when I press on key's corners, that works on any other b2 key. And I waited for some glue.

Fast service to get me going again

Cleaned my computer and lost a key (blonde moment) . Ordered new key from here and within days up and running again! Thanks guys! You are awesome