Belkin QODE Ultimate Keyboard Key Replacement for iPad 2 3 4
Laptop Key Replacement Kit
(Includes key Cap, Hinge Clip, and Cup. All The Parts Needed To Repair Your Keyboard Key.)
Belkin QODE Ultimate Keyboard Key Replacement for iPad 2 3 4
This is 100% OEM Belkin QODE Cover Keyboard key replacement, there seems to be only one version
of this keyboard on the market, but take a second to compare the keyboard
to insure a proper fitment and finish.
This is the layout of the keyboard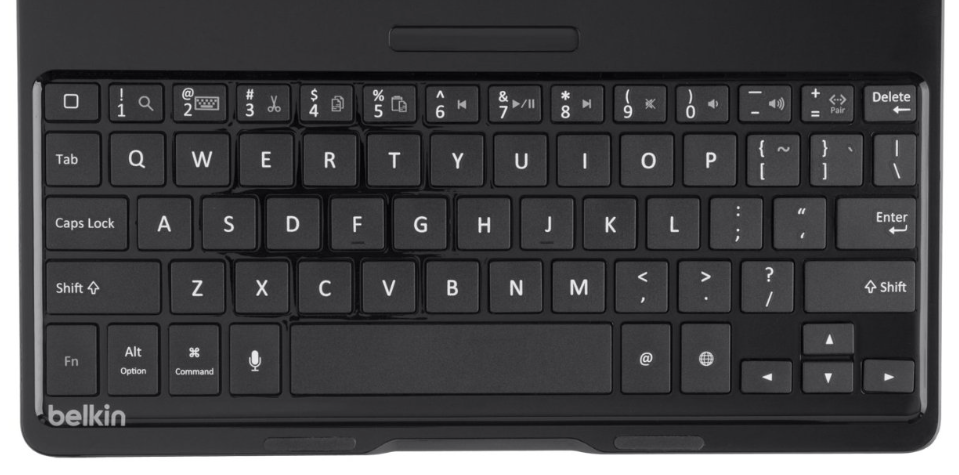 What comes with each laptop key kit.

The Key Cap
This is the piece of plastic that has the letter on it.

The Retainer Clip
The plastic or metal sisscor clip pieces that hold the key cap to the base of the keyboard.
Write a Review
Work great

My Belkin QODE keyboard for my iPad 4 has been the best purchase ever but once somehow the "n" key popped off. I searched for replacement key and used this website. The "n" key arrived quickly and I just popped it right on and it snapped into place no problem. It was very easy and much cheaper than a new QODE keyboard.

I was missing two keycaps from a Belkin keyboard for iPad 4, and Customer Service quickly helped me order one of the special keys not listed. Keys arrived quickly and fit perfectly, I am very happy and keyboard is working well!