Lenovo ChromeBook N21 Keyboard Key Replacement
Laptop Key Replacement Kit
(Includes key Cap, Hinge Clip, and Cup. All The Parts Needed To Repair Your Keyboard Key.)
Lenovo ChromeBook N21 Keyboard Key Replacement
100% OEM Lenovo ChromeBook N21 Keyboard Key Replacement, buy with confidence you are sure to get perfect match and fit keys.

PLEASE NOTE: There are 2 Versions of this keyboard on the market,

Version A, the plastic hinge clip under the key cap is Black.
Version B, the plastic hinge clip under the key cap is White.

Version A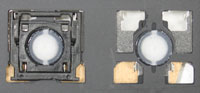 Version B
Each Keyboard Key Kit Includes: Key Cap | Hinge Clip | Silicone Cup
100% Factory Original
Brand NEW
1 Year Warranty
60 Day Free Exchange Policy
Hassle Free Return
100% Satisfaction Guarantee
We are a proud American company since 2005. All of our products are packaged and shipped from Orange County, Ca.
Confirm Keyboard Layout and Language
Below is an actual picture of the keyboard. Please confirm that the layout matches as well as the language.

NOTE:The default color of the keyboard we show is black. If your model comes in different colors and we have it in stock, it will be available in the color section above.
INTERNATIONAL CUSTOMERS: Our standard keyboard layout is QWERTY (shown below). If you have a different language layout the key cap and hinge clips are still interchangeable. If the key cap shape does not match or you require a different language layout please contact us before ordering.



Write a Review
The product is exactly that I selected.

My daughter lost a key of her chromebook so I looked it up and found the replacement key.
Worked out wonderful.
Easy fix.

Arrived fast installed seamlessly!

I have purchased keys from here before. They always deliver great quality keys that work as expected. I won't buy from anybody else.

Kids keeps pulling the keys off, am very glad you guys always have them in stock.

Worked and fit properly!! Like it was from the factory!!

chromebook n21 keyboard replacement

very easy and quick to fix!

appears to be OEM keycaps

Quick delivery,some keys a little expensive.
Will continue to use them, as needed.

Instructions for the rubber dome install might be helpful.

Laptop key replacement - as advertised.

The correct order was sent in a timely manner.

Replacement key kits saved us money, and were easy to install!

The keys are perfect replacements and the height and action are indistinguishable from the stock keys.

It's a bit of futzing around trying to figure out what side is what and how best to get the hinge in place. Once the hinge is in place, the key snaps right in. Take your time and go slowly.

I ordered the key and parts I needed and they were delivered within a couple of days. I snapped them into place according to the online directions and they worked perfectly.